How To Choose The Right Color For Your House
Whoever thought that designing your dream house is easy? Laying out floor plans already seems like a monumental task.
How much more when you start decorating it? One of the most important aspects of building a house, whether it's a modern house design on the Gold Coast or a House and land package in a subdivision, to choose the right house color is vital. Choosing the right house color can either make it look dreary or look stunning. Here are quick tips in choosing the right color palette for your house.
Choose the Right House Color by Maximizing the Color Wheel
You've probably heard so many tips about choosing the right color combination for your house. Some would tell you to choose this color. Some would tell you to choose a house theme. Some would also tell you to stick to monochromatic colors and so much more.
Well, whatever you've heard, they're all correct! This may be more confusing especially if you want to design your dream house. The only difference in choosing the right color is achieving the right effect you'd like your home to emanate.
Choose the Right Monochromatic House Colors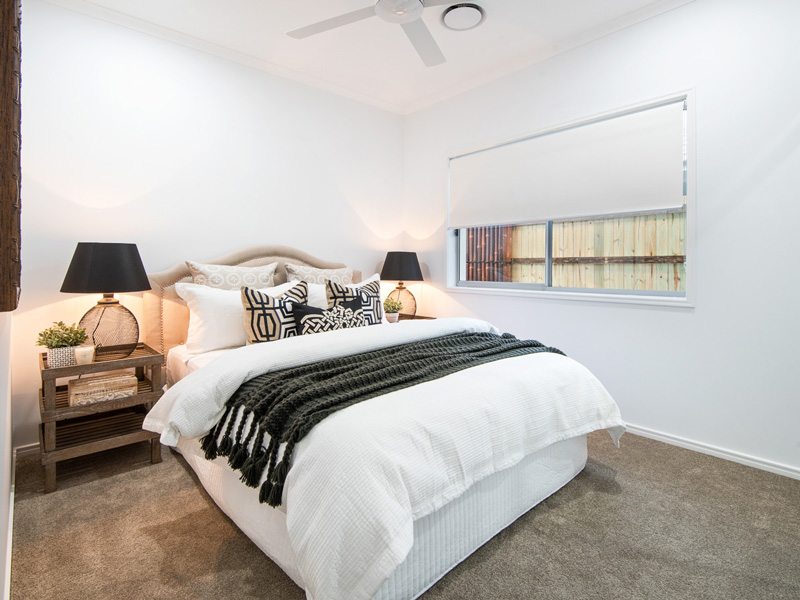 Choose Cooler Colors For Your House
Choosing colors like blue and green are perfect for smaller rooms. They create the illusion of larger spaces because it gives you the idea that the room looks and feels more airy.
Choose The Right House Color with Contrasting Colors
Colors which are opposite each other on the color wheel, like blue and yellow have a nice vibrant feel. Contrasting colors make each other stand out, not in a jarring way but in a way that plays each other off. But choosing contrasting colors it means that you shouldn't go beyond these two colors. More than that, it will just end up looking massively crazy and confusing.
When using contrasting colors, choose the main color first. Then, play it off with accents of a contrasting color. An example would be painting the main walls blue. And then, painting a trim or feature wall yellow. This is a more modern approach to color choice and works best with modern house designs.
Choose the Right Colors Near Each Other
Blue and purple or orange and yellow are colors that are near each other. Choosing a palette of two colors that are somehow close to each other makes the other color stand out even more.
To achieve a coordinated look in your house, do a 60-40 ratio. Do probably 60% blue and the rest 40% green. Though this isn't a perfect formula, you have the choice of also choosing a 70-30 or 80-20 but don't go for a 50-50 paint job. It's going to make your house look confused as to what color it should have been in the first place.
Choose the Right House Color with Warmer Hues
Color choices of red, orange, and other warmer colors make a room stand out. It gives a room a more vibrant feeling. It also closes in a big space and makes a place feel more homely. However, when played wrongly, it could make a room look old, dull, and dreary.
Plain and Accents
Choosing a single color for your house is also a great idea. Choosing lighter colors like off-white, cream, beige, grey, tan or like colors as your main base color will make your house feel integrated. Add accents such as red, orange, lime green or other bold colors. They will add character to your room. The colors pop out and will really make your room feel appealing and very personal.
Suggestion:
If you're building an investment home, then it's better to paint the exterior and interior with neutral whites, off-whites or gentler cream or grey shades. This allows potential renters to add their own furniture without color clashes, and future buyers to keep or change the colors to their own liking. Most house and land packages stick to neutral tones as then buyers can visualize what their own furniture will look like.